On the afternoon of September 24, 2020, Mr. Abdus Shahid, the honorable M.P. and his party, accompanied by Mr. Salim Uddin, Secretary of BCIC, visited the construction site of CCCL project.
He stressed the importance of the project and asked us to complete the whole process of the project construction on time, with quality and quantity guaranteed.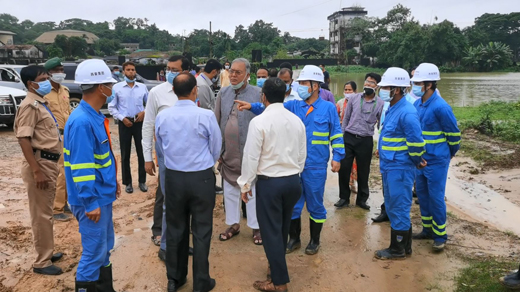 The PD of CCCL and Mr. Han Xiangdong, the project manager of our company, reported the overall project schedule and construction preparation, as well as the impact of epidemic situation on construction progress. Finally, the project will be officially started in December 2020, and the completion acceptance is planned to be completed by the end of 2022.
At present, Bangladesh is in the heavy rain season. Since the beginning of construction preparation work in early August, it has been raining for more than a month every day, which brings great difficulties to the field work. Nevertheless, the project department adheres to the principle of 'man and machine non-stop for light rain while machinery non-stop for heavy rain', and strives to improve the construction efficiency and create better site conditions for subsequent construction.
Finally, M.P. expressed his great satisfaction with the work of our company and expressed his thanks for our hard work in the continuous construction during the epidemic period.